true

Intro

Select Hats Artwork

Checkout
Decoration Method

EXPERIENCE OUR SIMPLE
ORDERING PROCESS
1. Select Hats > 2. Upload Artwork > 3. Checkout
Embroidery
No Minimum Order
Lowest Price Option
Most Popular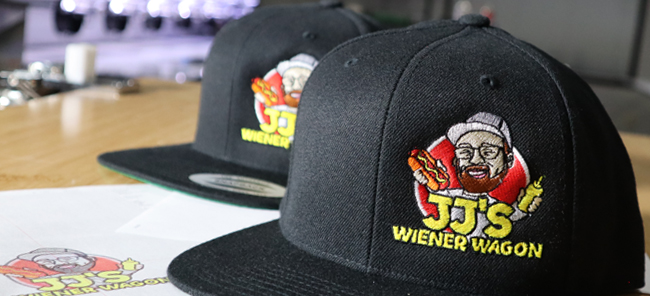 SELECTED
Leather Patches
No Minimum Order
Synthetic Water Resistant Leather
Great For Small Details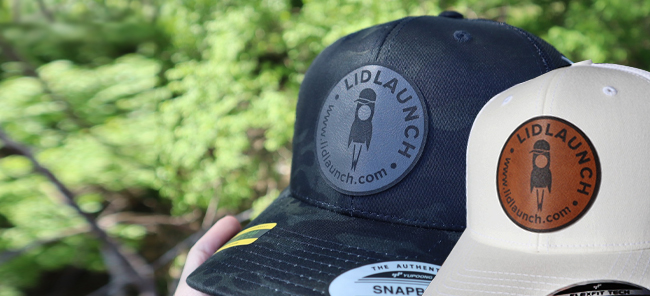 SELECTED
OUR HAPPY CUSTOMERS

Yupoong 6006 Flat Bill Trucker Snapback





JOSEPH .

STROUDSBURG ,PA 06/06/2023
2nd order of 9 hats in the last year an these guys knocked it outta the park once again , ordering is easy communication is superb making sure youngetbexactkybwhat you want. I don't think they could do anything better you guys are rockstars !! I'm stocked with my new hats great job once again, thank you so much
Richardson 112





RON R.

VICKSBURG ,MS 06/06/2023
Hats look awesome! I should have ordered more. The wait time was a little longer that's expected but worth the wait!!!!

Richardson 112





MARK S.

HOUSTON,TX 06/06/2023
They are wonderful at communicating and make a great product.
FlexFit 6277





AARON Y.

NEWNAN,GA 06/03/2023
The quality of the hats are amazing but the turn around time is not worth the expense.
Richardson 112





TOD .

ROSSVILLE,GA 05/30/2023
Love the hats , just dont like how long it took to get them
Yupoong 6606 Trucker Snapback





CASS L.

VERO BEACH,FL 05/30/2023
Hats look great, very fine detail. Will definitely be ordering more!

Richardson 112





JOSHUA W.

SCOTTSVILLE,KY 05/27/2023
Everything was completely awesome, the caps exceeded my expectations. They matched my cap color to my thread color, absolutely amazing.
FlexFit 6277





CAMERON N.

PORTSMOUTH ,NH 05/27/2023
Hi hat people! Design process was easy, turn around took a bit-but I understand… Product is very well done at a great price point. I'll be returning as a customer sooner than later I think. These hats were supposed to be replacing my current worn out company hats, but everyone wants to buy one off me…so I might as well get another batch! Thanks, Cam
Richardson 112





CHRIS S.

CASTLE ROCK,CO 05/27/2023
I am very pleased with the hats I received from hatlaunch and will order again!
FlexFit 6277





CHRIS G.

DARBY,MT 05/26/2023
Price is good! Hats are excellent quality! Will continue to use Hatlaunch!

FlexFit 110 Trucker Snapback





DONALD M.

SOUTH PARK TOWNSHIP,PA 05/25/2023
Overall experience was great

FlexFit 6277





CURTIS H.

SPRINGFIELD,LA 05/23/2023
Our experience was great. The turnaround time from the most recent order improved GREATLY! So whatever adjustments that you all made seem to definitely be working!
Richardson 112





LYNDSAY D.

FORT WHITE,FL 05/23/2023
Super simple and flawless experience with a great product, Sold out the first and will definitely be ordering more Thank you so much, God Bless B3 Farms
Richardson 112





ISAAC .

LUBBOCK ,TX 05/23/2023
I ordered for first time and I loved the hats, they came out real nice, from start to finish order process was easy, thank you Hat launch I will be ordering again soon
FlexFit Trucker





CONOR E.

WEST ORANGE ,NJ 05/21/2023
Good quality excellent customer service will be ordering another set of hats
Richardson 112





MICHAEL N.

MOORESVILLE,IN 05/18/2023
Richardson 112





TEAH R.

ANACONDA ,MT 05/15/2023
Love these hats! The quality is amazing. It came in great time and exactly what we wanted!
Yupoong Dad Cap





GINA R.

RINGGOLD ,GA 05/14/2023
Great product!
Richardson 112





TRAVIS M.

THORNTON,CO 05/10/2023
Looking forward to re-ordering
FlexFit 110 Trucker Snapback





BRENT E.

PROVIDENCE VILLAGE,TX 05/10/2023
Took right at a month to get them in but they look fantastic. Definitely will be ordering more in the future!

Yupoong 6006 Flat Bill Trucker Snapback





ERIC R.

NORTH HIGHLANDS ,CA 05/08/2023
Killer work putting in another order ASAP
FlexFit Trucker





SHAWN N.

FLOWERY BRANCH,GA 05/05/2023
The quality of these hats is amazing. I was very surprised with the quick turnaround time, and I'm super happy with the overall product.
Yupoong Curved Bill Snapback





DARRIN .

MANSFIELD ,OH 05/02/2023
Thank you for doing an outstanding job on my hats. I couldn't be happier, and I will definitely be ordering again and recommending you to everyone I can. From ordering to at my front door in 12 days, that's good service. Keep it up. Darrin Cuthbertson.

FlexFit 6277





BUCAY A.

RIVERDALE,NJ 07/15/2021
Our hats came out perfect! customer service was on point! Super easy to design, make changes & order! They were a pleasure to work with & helped us throughout the process to get to the exact design we wanted! Order came in quicker then expected, highly recommend LidLaunch! thank you!
FlexFit Flat Bill Fitted





MIKE D.

BARTLETT,IL 06/24/2021
Cheap prices, great quality, and quick delivery. Thanks so much!
FlexFit Trucker





MATT I.

WALTHAM,MA 05/19/2021
Love the hat. Little dirty already. I had to wear it immediately on the job site. Will definitely be ordering again. Great work!
FlexFit Trucker





ZACH N.

BLUFFTON,IN 05/18/2021
5/5 Great product & excellent customer service! All hats will be made here for us!

FlexFit 6277





CHRIS K.

HAMMOND,IN 05/17/2021
what a amazing company. absolutely ?? great products high quality. and the customer service is impeccable ?? thank you for going out of your way to give the best available service. Id recommend Lidlaunch to everyone. Thanks again.
Richardson 112





NORVELL .

RALEIGH ,NC 04/25/2021
Love the hats delivered when then said great communication. Definitely will be ordering again. #WaterBoyz

FlexFit 6277





JOSEPH A.

MORGANVILLE,NJ 04/22/2021
excellent customer service. hats came out ?? Great prices. already put another order in.
HOW IT WORKS

Select the hats you are interested in getting customized with your logo. Enter in a quantity you would like next to each option. You can mix and match hat styles, sizes and colors freely.

Upload your artwork, select where you want the artwork placed on the front panel(s) of the hats and let us know any specific details you think we may need to know about your order.

Checkout and pay for your order.

Our design team immediately gets to work converting your uploaded artwork into a digital file that our machines can use. You will receive mock ups of the artwork for review, feedback and final approval before production begins.

After your approval we begin production of your order. Your order enters our production queue and waits for it's turn to be run on one of our commercial machines.

Your order is checked over for quality and then packaged and shipped to your door. Our current turn around time from the date an order is placed is 14-21 business days.
Current Total:

$0

0

hats

+ $50 artwork setup (12 or more gets free setup)